Administrator
Staff Member
Messages

133
Likes

46
Points

28
Installation Guide
A quick installation guide for getting started with SlimeTales!
Windows
1.
Download the client from:
https://slimetales.net/?base=main&page=downloadwindows
2.
Extract the client any location that you desire (e.g. Desktop).
3.
Within the SlimeTales client folder that you extracted in Step 2, right click on
MapleStory.exe
and click
properties
. Navigate to the 'Compatibility' tab and set the compatibility mode of the program to Windows 7. Press 'OK'. Do the same for
SlimeTales.exe
.
4.
Being a KMS client, the game files
must
be executed within a Korean environment. This can be achieved in one of two ways: switching your system locale, or using a locale emulator. Choose between either step 4a. or 4b. to continue the installation process.
4a. System Locale Switch Method
Navigate to the 'Region' settings menu through
control panel
and go to the 'Administrative' tab.
Change the 'Language for non-Unicode programs' from whatever you currently have set to Korean (Korea) by pressing the 'Change system locale...' button.
Restart your computer.
4b. Locale Emulator Method
Download Locale.Emulator.2.2.1.0.zip from:
https://github.com/xupefei/Locale-Emulator/releases/tag/v2.2.1.0
Extract and install the locale emulator. It is important that you are using this exact version (i.e. v2.2.1.0) if you are
not
on Windows 10.
// If you
are
using Windows 10, please use the latest version available
here
. //
It is important that you extract the Locale Emulator to a permanent location. If you move the folder elsewhere at a later time, Locale Emulator will no longer function correctly and you will have to repeat this step to reconfigure it accordingly.
Right click on SlimeTales.exe and press 'Locale Emulator'.
Create an 'Application Profile' to run the program in Korean.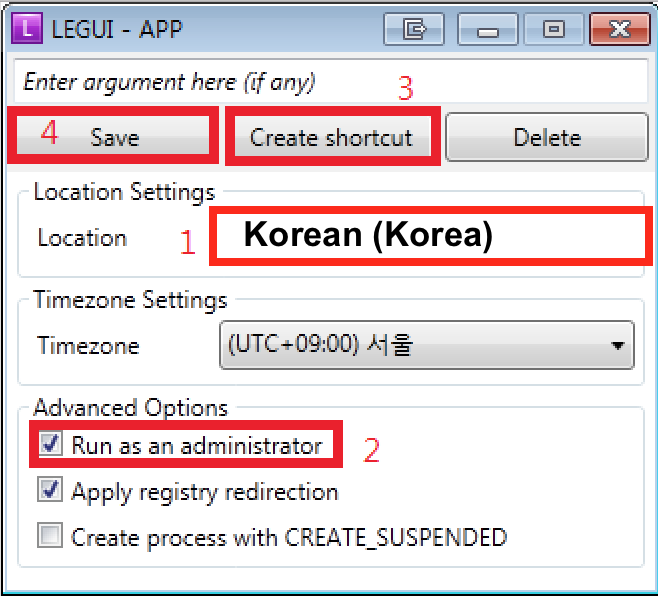 5.
Depending on which method you used in step 4, use follow the corresponding instruction in this step to launch the client.
5a. System Locale Switch Method
Double-click on SlimeTales.exe to launch the client.
5b. Locale Emulator Method
Right click on SlimeTales.exe, select 'Locale Emulator', and then press 'Run in Korean' / 'Run in Korean (Admin)' (or the shortcut you created in step 4).
Q: How do I play in fullscreen? (or windowed)
A: To play SlimeTales in fullscreen mode, delete or rename d3d8.dll within the SlimeTales folder.
To regained windowed mode, simply restore d3d8.dll to this folder.
macOS
Download from
here
No installation required. Simply open SlimeTales.dmg, drag SlimeTales.app to your Applications folder and double-click to open the client.
Q: How do I play in fullscreen? (or windowed)
- Control+click on your SlimeTales app > Show Package Contents > Wineskin > Set screen options > CHECK the box labeled "Use Mac driver instead of X11". For windowed mode, UNCHECK this box.
Q: How do I type Korean text in-game?
- First, make sure your Mac has the Korean keyboard enabled. This can be done in System Preferences > Keyboard > Input Sources > Click the (+) and add Korean. Then under the "Shortcuts" tab, highlight Input Sources and enable the shortcut "Select the previous input source" (Command+Space by default).
Next, set your game to fullscreen mode (see above). Use the previously enabled shortcut to switch between Korean and English keyboards in-game (or any other keyboards you may have enabled). Please note that you will NOT be able to play the game in windowed mode with Korean input enabled.
Q: Getting a Wineskin is getting a damaged error?
- Try this out:
https://www.cnet.com/how-to/how-to-bypass-damaged-application-warnings-in-os-x/
GOT ERRORS?
To debug common errors, check out
this thread
.
Last edited: